Join The Kula Academy!
Come play with all the Kula Kids and choose from our insanely creative variety of virtual classes with world class instructors. Learn outdoor watercolor...backcountry cocktails... wood burning...meditation... and so much more. We can't wait to connect with you! 
Classes are free, by donation or for an affordable price (see descriptions for details).
Take a Class!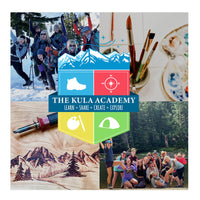 This section doesn't currently include any content. Add content to this section using the sidebar.
Testimonials
This may be a simple little cloth, but it will be - and should be - a game changer, not just for the people who use it, but for the environment. It's not an exaggeration to say that this is one of the most important pieces of outdoor gear to come along in decades.

Diana, avid hiker and all around awesome person
These things are the best things since sliced bread.

Disclaimer: please do not use bread to wipe.

a passionate Kula fan
"Much better than using a smooth rock."

Coalition Snow founder Jen Gurecki
"Essential! Will never hike or adventure without it!"

Everybody who tries a Kula