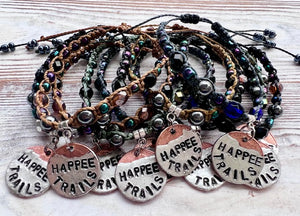 We are thrilled to offer this very limited edition bracelet in collaboration with Kula Community member Jen Seymour, founder of Chica's Arm Candy.  The central soldered 'Happee Trails'  penny charm is hand-stamped in lead-free melted solder and is surrounded by silver faceted, antique gold or copper seed, antique gold or copper metallic scroll, Czech glass fired and clear "ice" faceted beads; all strung on light grey waxed thread with adjustable slip-knot closure. 
All of the bracelets are very similar in style/color and design so we will select one for you and send it to you with love.  
About Jen and Chica's Arm Candy:
What would you do if you chucked it all, sold everything, and moved to Central America? Start a jewelry business, naturally. Jen's Arm Candy had its origins on the isthmus of Costa Rica when she and her husband jumped off the earn-more spend-more treadmill of the American Dream and began accumulating adventures rather than stuff.
After four years in Costa Rica the couple moved back to the States and immediately embarked on thru-hiking the Appalachian Trail. Jen's jewelry morphed and incorporated her new love of hiking and the Appalachian Trail. Jen has also thru-hiked the Camino Frances, Bartram Trail, Colorado Trail, and the Ice Age Trail. In 2020 Jen and her husband opened Chica and Sunsets' Hostel in Franklin, NC. The hostel hosts hikers on the AT and Bartram Trail and keeps Jen connected with the hiker community.

In addition to jewelry making and hiking badassery, Jen is an author of seven books with topics ranging from assimilating into life as an expat in Costa Rica to long-distance backpacking. When she is not making jewelry, taking care of hikers, or hiking herself, she can be found playing the piano or curled up in her favorite chair reading a book.
Web:  https://costaricachicaarmcandy.com/
Hostel Store: https://chicaandsunsets.com/store/