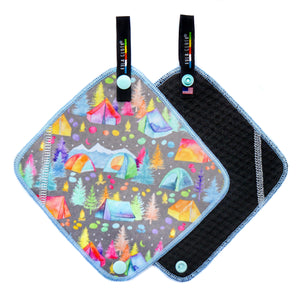 We are thrilled to share our latest collaboration with Emery Allard Smith: Campsite Dreams! Campsite Dreams is a magical print that somehow manages to capture the brightness and joy that we feel when we step away from our homes and snuggle up in a tent at night. Is there anything better than nestling into a sleeping bag at night? Ok... so that reminds me of something... one of my favorite passages from Moby Dick that I absolutely have to share with all of you... if this doesn't make you wax poetic for camping, I'm not sure what will:
The more so, I say, because truly to enjoy bodily warmth, some small part of you must be cold, for there is no quality in this world that is not what it is merely by contrast. Nothing exists in itself. If you flatter yourself that you are all over comfortable, and have been so a long time, then you cannot be said to be comfortable any more. But if, like Queequeg and me in the bed, the tip of your nose or the crown of your head be slightly chilled, why then, indeed, in the general consciousness you feel most delightfully and unmistakably warm. For this reason a sleeping apartment should never be furnished with a fire, which is one of the luxurious discomforts of the rich. For the height of this sort of deliciousness is to have nothing but the blanket between you and your snugness and the cold of the outer air. Then there you lie like the one warm spark in the heart of an arctic crystal.
- Herman Melville, Moby Dick
Are you a Moby Dick fan? How did I end up writing about Moby Dick in a camping pee cloth product description? Either way - Avast, friends! You are loved. 
About the artist:
'Campsite Dreams' print is an original design by Emery Allard Smith. 
Product Description:
This is more than just a cloth. This is the product of years of obsessing over a way to create a pee cloth that solves all of the problems of traditional pee cloth options. It is a real piece of gear (not an afterthought scrap or remnant of fabric) created out of a love for the community of people we serve and love for the wilderness experiences we seek.
Kula is perfect for all of life's adventures... you can even use it at home as a zero waste alternative!
The Kula Cloth® has these unique features that make it an extremely intentional piece of gear:
- super absorbent (absorbs 10x its weight in water!) and soft 
- advanced silver-infused, antimicrobial fabric 
- eco-friendly non-toxic materials (Bamboo Viscose, Cotton, Organic Cotton, Polyester)
- durable and waterproof 'clean' side so your hand doesn't get wet 
- easily snaps to backpack using plastic snaps
- 'double snap' allows cloth to hang while folded in half (so it doesn't touch pack and/or get dirty on the trail)
- easy to clean or rinse and quick to dry
- retro-reflective thread detail for locating it at night with your headlamp
- size is approx 6 x 6 inches
- weight per cloth is .6oz
- proudly made in the USA
For more information about the use/care of a Kula, please read our FAQ here